Test with different types of recommendations
---
In Synerise we have many different types of recommendations. You can choose the one that best suits you and your business.
We recommended adding them in different stages of the customer journey. From which type you should start?
You can discover this only through testing. Testing different types of recommendations determine which one will convert best is the optimal solution.
Example of use - Retail Industry
Challenge
We created a strategy for the website of a client from the retail industry consisting of different types of recommendations:
Personalized recommendations on the home page
Personalized recommendation on the listing based on gender
Cross-selling recommendations on the product page
Cart recommendations in the basket
Recommendations on the zero-search results page
All of the recommendations were added to the campaign dashboard to monitor results.
The results were generally good, but we decided to compare them with the results from another brand belonging to the customer. We also decided to switch from cross-selling and cart recommendations to fully personalized recommendations because we did not have any historical transactions from the client and we wanted to compare which gave better results in a situation when you do not have any data but you want to still personalize the content.
We implemented the same recommendations as in the first brand (except the recommendations on the product page).
Solution
We decided to make three changes:
1st We put personalized recommendations everywhere on the site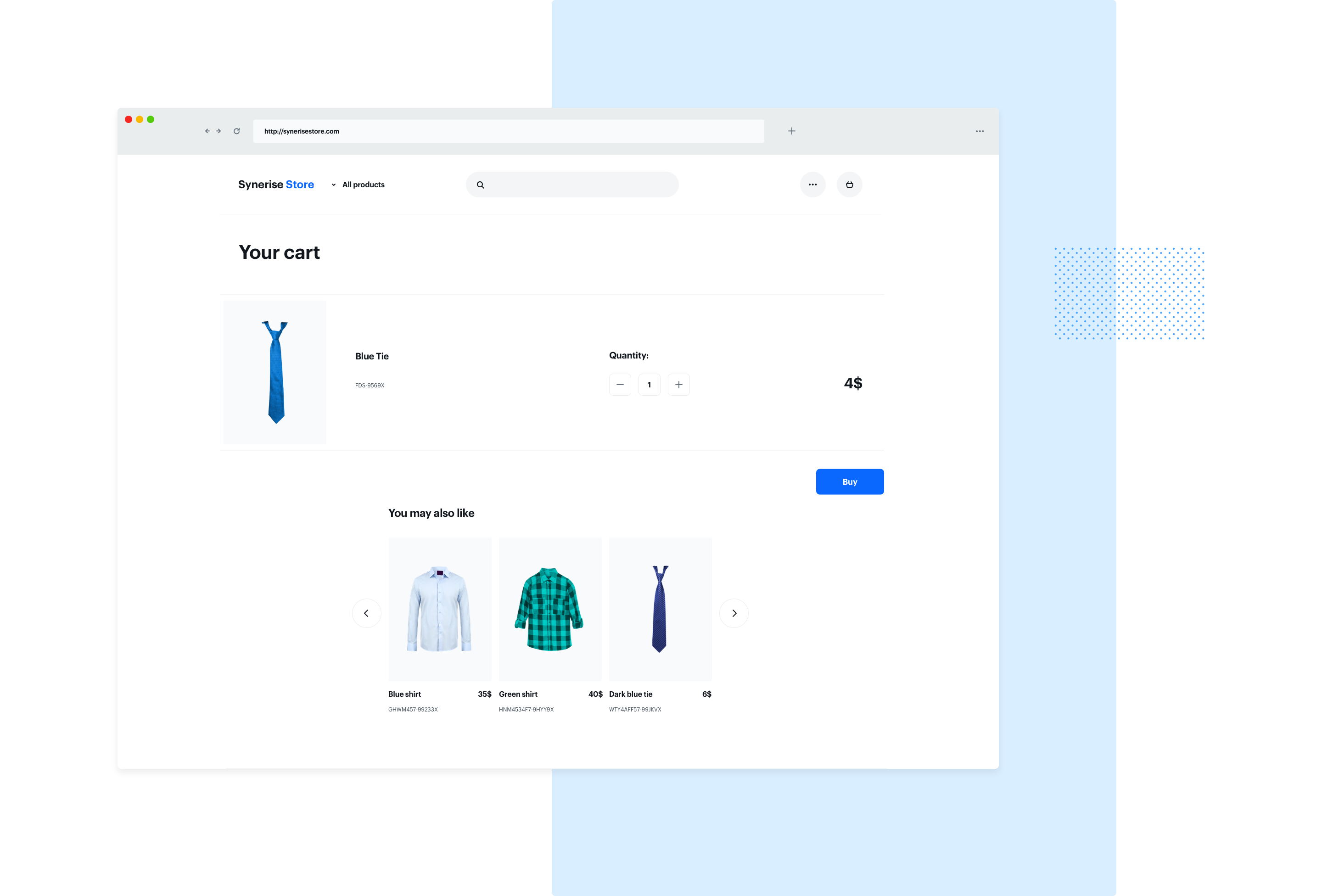 2nd We put sets of products on the cart recommendations - when someone added a men's shirt to a cart, we recommend only ties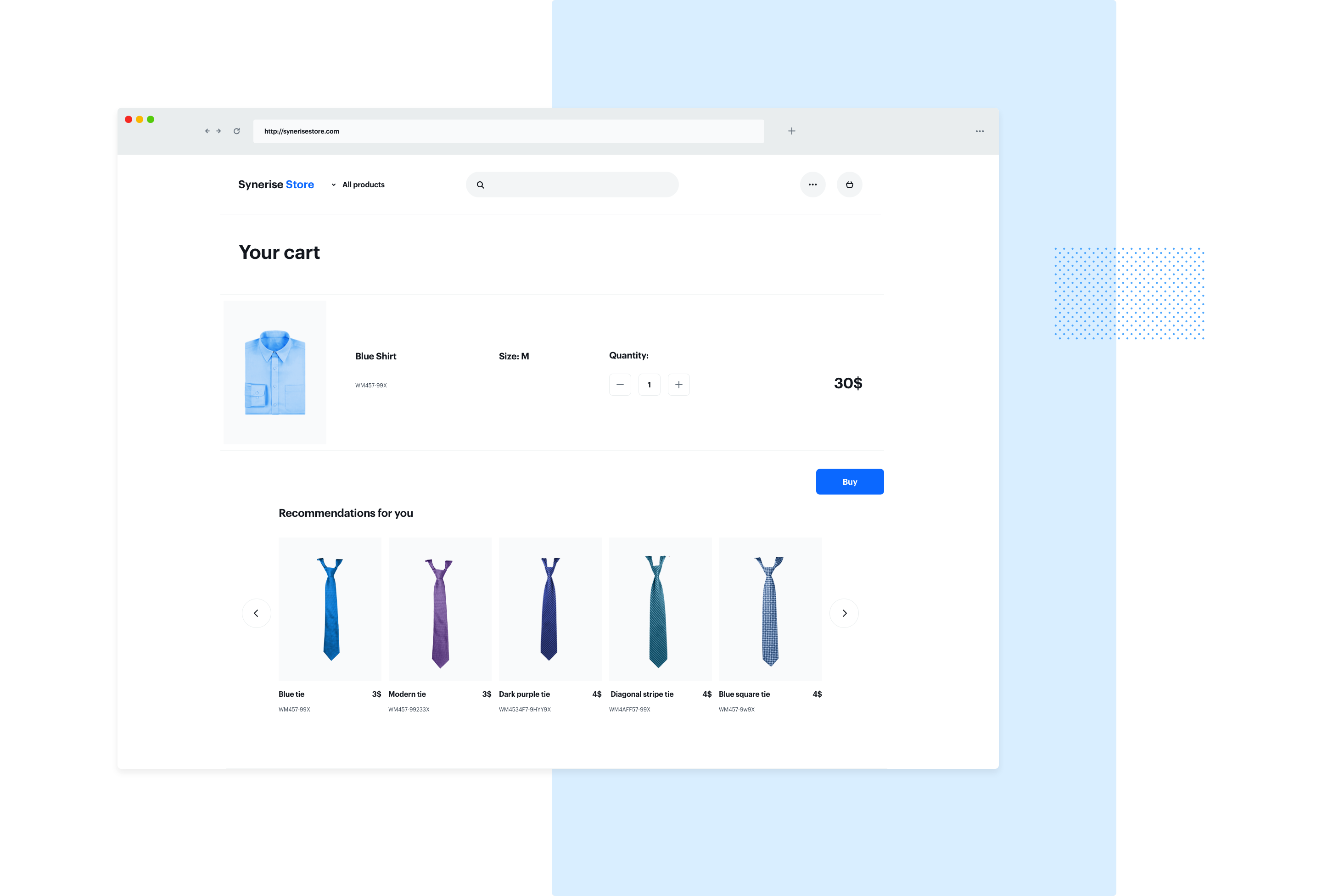 3rd We put sets of products on the cart recommendations - when someone added a men's trousers to a cart, we recommend only shirts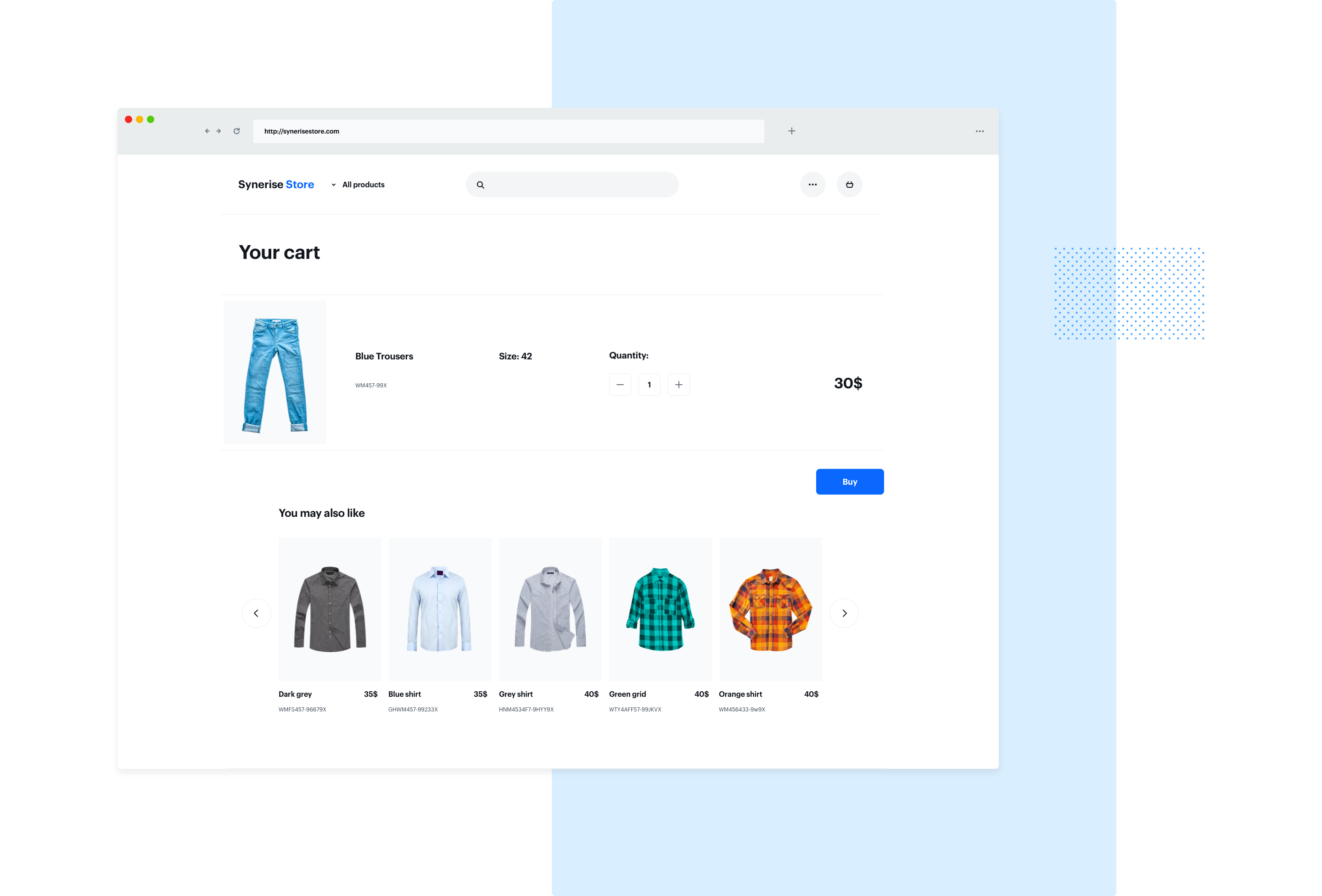 Results
2% CTR for sets recommendations (ties to shirts)
3% CTR (shirts to trousers)
6% CTR - personalized basket recommendations
These results show that AI can make better decisions than even someone with lots of industry experience.
After comparing these two campaigns, we learned that:
14% of users bought products based on recommendations on brand A
21% of users bought products based on recommendations on brand B
Personalized recommendations for brand B worked better than mixed types of recommendations on the different steps of the journey.
We also compared two different types of recommendations in the basket:
~1% Conversion rate - in case of sets of products (ties to shirt, shirt to pants)
4% Conversion rate - in case of personalized recommendations
Requirements
General:
Product feed
OG:tags
Transactions
Page visits (Synerise tracker)
Additional:
Historical transactions
Historical page visits
Other activities and user behavior
How to do it
---
At first you must choose what type of recommendation would you like to use on your website.

Set up the campaign:

Declare the quantity of returning products in your recommendation
Configure the recommendations filter. You can use brand filter, category, price, discounts, gender and a few other additional settings.
Adjust the additional settings. This part will help you with choosing the optimal set of products and put them in the most favorable order.

Copy the campaign ID from its URL.

Decide where you want to display your campaign. In this case it was a dynamic content campaign.

In the dynamic content creator, adjust the settings:
Choose one of two types of campaigns. In this case, it should be an inserted object, because we want to place a slider on our website.
Define the audience – people who should see your campaign.
Create the content - remember to copy the unique ID code from your recommendations model and put it directly in the code of dynamic content campaign as campaign ID.
Configure the additional display settings and schedule your campaign time.
Read more
---