STEP 1 Introduction to communication
---
Introduction
---
Let's look at our Communication module, which helps you to properly target your communication and build stronger relationships between your customers and your brand. Synerise offers you several communication channels, from emails and text messages to Web Push notifications, mobile applications, and communication through a website.
From this chapter you will learn:


what the basic configuration of communication channels looks like,


what kind of analytics you should know at the beginning of the work with communication module effectively.
Basic configuration
---
The following configuration elements are common to all communication types: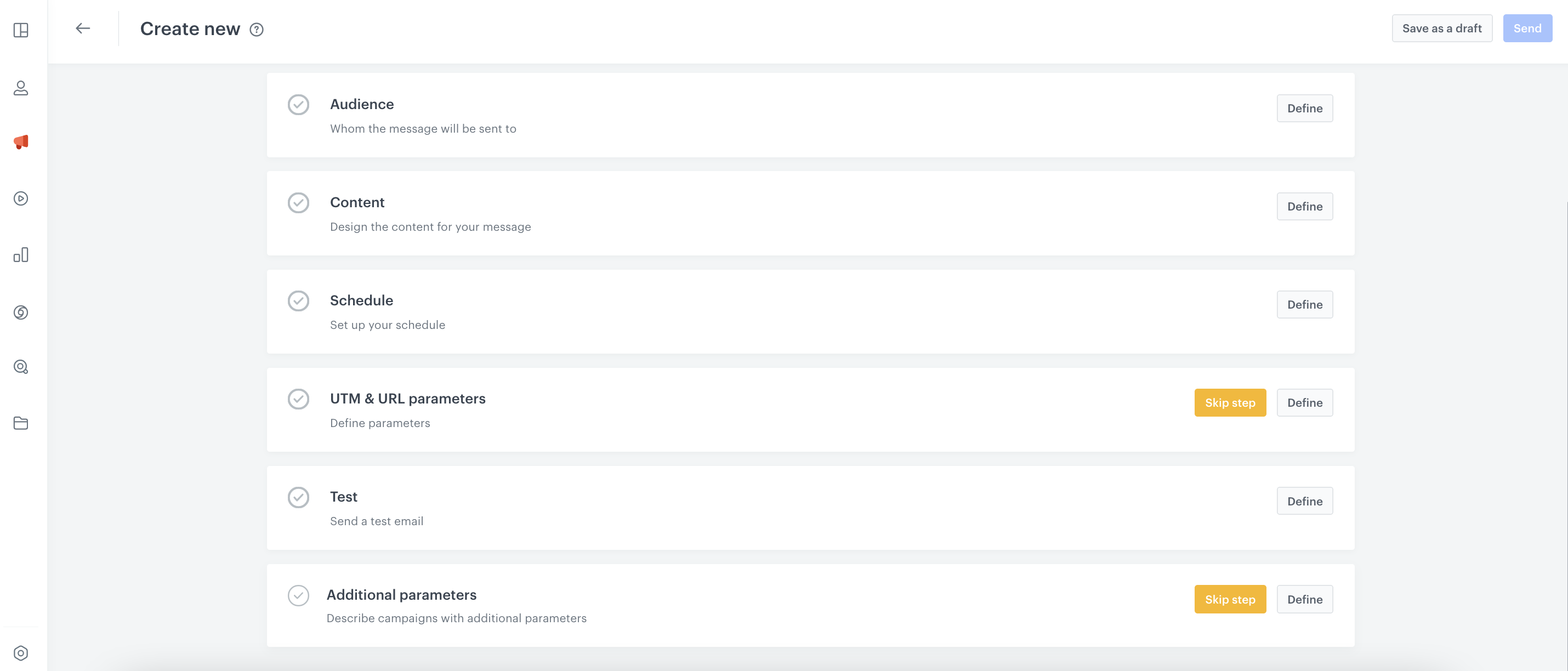 Audience: where you define the recipients of the message (ex. segment of people who made a transaction last week).
Content: where you define the content of the communication, for example the text of a push message or layout of dynamic content.
Schedule: where you define when the communication should be activated and de-activated (if applicable to the communication type).
Display settings: important in emission campaigns such as dynamic content and in-app, here you can specify how often and where your dynamic content should be displayed.
UTM & URL parameters: where you define parts of the URL that allow you to measure message results.
Additional event parameters: where you can add additional parameters to your campaign.
Additionally, you can use inserts in your communication.
In Synerise, you can create various types of analytics that perform calculations on customer actions; you can work with metrics which allow you to analyze the events; you can personalize the content with dynamic variables, such as the value of the transaction in a given month or the date of the last visit, and AI-powered recommendations to offer your customers exactly what they want. To make use of them to the fullest, you can use them while creating content to your communication. They are available in communication content creators in the form of inserts.
Basic Analytics necessary to build the Audience
---
In this chapter we will present you the fundamental concepts of analytics that are essential for creating successful and targeted marketing campaigns. To effectively create an audience of your future campaigns you should know the basics of analytics in Synerise.
Analytics play a pivotal role in helping you understand your audience, their behaviors, and preferences. By harnessing the power of analytics, you can effectively segment your user base and send personalized communications to specific individuals or groups, thereby maximizing the impact of your campaigns.
Rather than sending generic messages to your entire customer database, personalization is the key to connecting with your audience on a deeper level. By identifying specific user segments that meet certain conditions or criteria, you can tailor your messaging to their needs, interests, and preferences.
Building a basic segment begins with segmentation, funnels and aggregates, three powerful tools in the Synerise Campaigns arsenal.
Segmentation
---
Segmentation involves dividing your customer base into distinct groups based on shared characteristics, such as demographics, purchase history, browsing behavior, or engagement level. This process allows you to gain insights into the unique needs and behaviors of different segments, enabling you to create targeted campaigns that resonate with specific user groups.
Watch this video below to see how to build the basic segmentation in your Audience tab in the campaign creator.
Aggregates
---
It's time to harness the potential of aggregates. By creating an aggregate, you can unlock a world of possibilities for understanding your customers' actions and crafting targeted campaigns. Aggregates are the invaluable tools for analyzing individual customer actions within specific event occurrences and defined time ranges. You can delve into the depths of data and extract key insights such as minimums, averages, maximums, and beyond.
In the upcoming chapters ANALYTICS, we will present you more analytics and the full potential of Synerise Analytics! Be ready!