IP allow-listing
IP allow-listing lets users define the IP addresses allowed to access a workspace in Synerise. Next to two factor authentication and password policy, it's an option that strengthens security of the workspace and restricts the access to those users whose credentials are executed from the approved location.
Within this option, the users can define:
The list of allowed IP addresses
Access to a workspace for Synerise subnets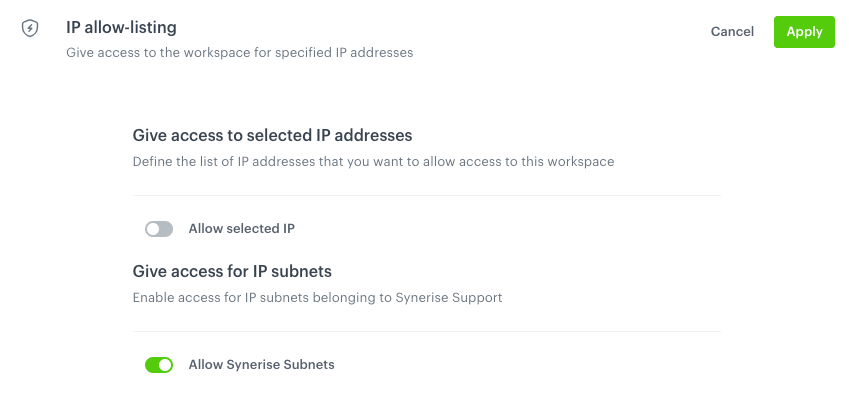 Go to Settings > Access Control.
In the Security section, next to IP allow-listing, click Show.
In Give access to selected IP addresses section, the Allow selected IP toggle is off by default (users can access a workspace from various IP addresses). To define the list of IP addresses only from which users can access the workspace, switch the toggle on.
Result: A text field appears.
In the text field enter an IP address.
Confirm by clicking Add address.
To add more addresses, repeat steps 4 and 5.
Optionally, you can manage access to your workspace by Synerise subnets for support reasons. This option is on by default.

WARNING:

Remember that after confirming the list of allowed IP addresses, the users who access the workspace from other addresses than specified will lose access.

To confirm all settings, click Apply.