ABx Test node
This condition allows to branch the paths in a workflow and define the allocation of customer groups to every path. It's a good way to test the effectiveness of communication through a given channel and to verify content.
Node configuration
---
Click the pencil icon on the node.
Click the Add group button. You can add up to 10 groups.
Optionally, you can select the Equal allocation option to evenly distribute customers between the paths.
If

If you want to monitor the entries into this step, switch the Track datapoints toggle on. As a result, events related to the movement between nodes (automation.clientPathStep) will be available in the Analytics module to use. These events (automation.clientPathStep, automation.clientEndStep, automation.startPath) are displayed on the activity list on the profile card regardless of the configuration of this option.

Confirm by clicking Apply.
Example of use
---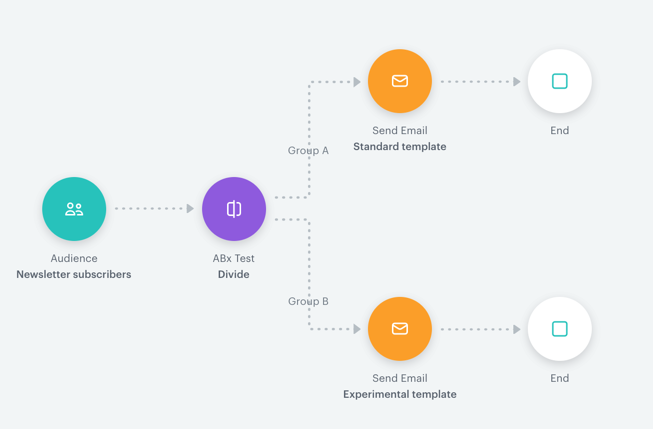 Note:
You can have a look at the
use case
that involves a workflow that includes ABx Test node.
The aim of this workflow is to compare two email templates. Group A receives a standard version of the newsletter, whereas Group B receives an experimental version.
Start the workflow with the Audience trigger node. In the settings of the trigger, define the recipients and select a start date for the workflow.
Add the ABx Test condition. In the settings of the condition, divide the groups. Group A consists of 80% of the whole audience, whereas Group B consists of the remaining 20%.
Add the Send Email action nodes to every path. In the settings of the actions, select the appropriate templates.
When an email is sent, the workflow is completed.